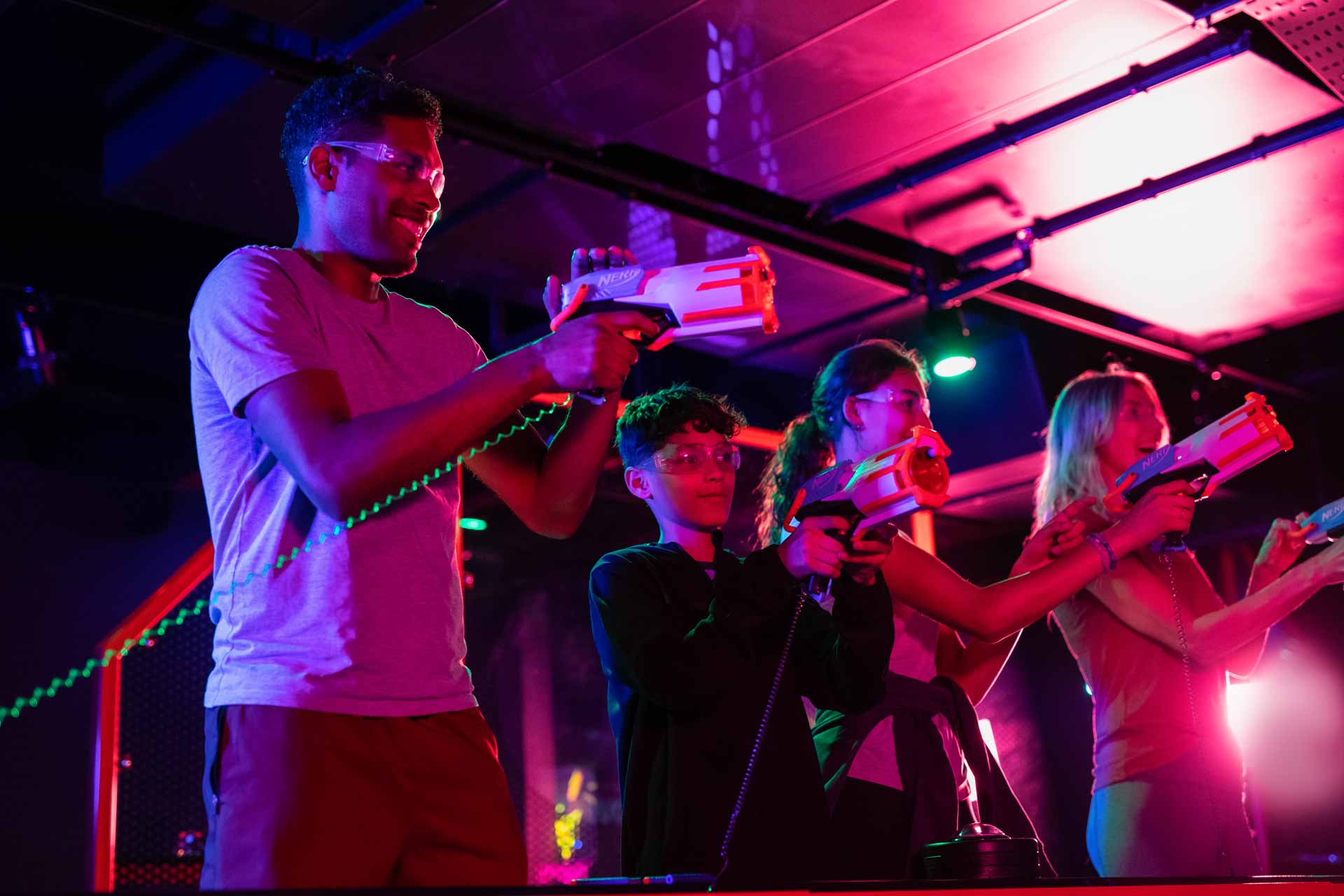 GENERAL INFORMATION
NERF Action Xperience is in Trafford Park, Manchester, North West England, UK.
Address: Manchester Unit C2, C6, Trafford Palazzo, Trafford City, Manchester, M17 8AS
What3words: cowboy.heave.precautions
For further details, including public transport, please see here
Xperience
Monday to Friday - 4 p.m. - 8 p.m. // Saturdays: 10 a.m. - 8 p.m. // Sundays: 10 a.m. - 6 p.m.
Last admission to play is one hour before closing. Last party admissions are two hours before closing.
Retail
Monday to Saturday - 10 a.m. - 9 p.m. // Sundays: 10 a.m. - 7 p.m.
We are open over the Christmas and New Year period - please keep an eye on our socials and on our website for the latest opening hours during the festive holidays
3
How long does the Xperience last?
You get 60 mins of play within the Xperience but there is a ticket option to extend your play for an additional 60 mins
4
Do I need to wear goggles?
Yes, all our guests need to wear NerfAX goggles when in the Xperience other than the Sports Zone. You can not bring your own goggles. Goggles can be pre-booked with your online booking or purchased on site in our Retail store.
Once you have purchased these goggles for your first visit - you are free to keep them and bring them back for your next visit
If you wear glasses, you may keep your glasses on. However, you need to wear our goggles over them.
5
Is the Xperience accessible for disabled users?
Yes, the Xperience and retail store are on ground level with no ramp or stepped entrances. We have an accessible guest lift to gain access to the first floor Xperience game zones and seating areas.
Please speak to a NAX Team member when you arrive to be shown where the lift is and if you require any further information or assistance during your visit.
6
How do I book a ticket for my carer?
Guests requiring assistance throughout the experience are entitled to apply for one free pass for their Personal Assistant/Support worker.
For a carer ticket, please don't make a booking. Just turn up at the site and present your carers ID and you will be allowed a free entrance as a carer. Once we receive this, we will provide you with the code or a voucher, that you can use to purchase your free Carer ticket.
Please keep in mind that you will have to show this, along with your tickets, to enter the venue. Each Carer's ticket will need to be purchased with at least one other full price ticket.
The carer does not need to book a ticket, only book a ticket for the guest requiring assistance.
7
Are service dogs allowed?
Yes - only guide/service dogs are permitted on site. All other animals are prohibited
8
Do you offer discounts or large group bookings?
If you require a large group booking or more bespoke booking
please Email
and we will be more than happy to organise this event for you.
9
Do parents have to pay even if they are not participating?
Any parent wishing to enter the Xperience needs to buy an Xperience ticket. Children aged 5 & 6 are required to be accompanied by a full paying adult. Ages 7-12 are required to have an adult inside the venue at all times. There is a mezzanine where you can view some of the areas without paying.
10
Can people come and watch?
Yes if you have players within the Xperience. There is a Mezzanine where you can view some of the areas. Only paying customers can go into the Xperience. Battle zones are enclosed for health and safety purposes.
Prams are allowed in our seating, mezzanine areas. Please speak to a site team member for lift access.
FAQS
We advise that you book your tickets online to ensure you can book the entry time you would like.
2
Do we have to book tickets online?
We advise that you book your tickets online to ensure you can book the time you would like. However, pending availability we do accept walk in bookings through our onsite box office.
3
What payment methods do you accept?
You can pay via debit or credit card online. Onsite we are a cashless venue and will only be able to accept card and digital payments (Apple/Google pay).
4
Is there an age requirement?
Minimum age is 5+ to access the Xperience during normal sessions. There is no maximum age. Adults are welcome. In time we may host toddler sessions - keep an eye on our social channels and website for updates.
5
Do I need an adult with me?
Children under the age of 12 need an adult inside the venue/seating area/mezzanine at all times. Children aged 5 and 6 need to have a full paying adult in the Xperience with them to maximise their enjoyment and Xperience.
6
Are there any height or weight limitations?
No, there are no height or weight limitations to enter the Xperience
7
Do I have to fill in a waiver or watch a safety brief?
The waiver and safety brief will be part of your booking process online. Please make sure you read this thoroughly and tick the box to say you have read and understood. You can also view this info on below in the Gameplay Safety section.
8
How long should I arrive before my session?
We advise all guests to arrive 15 mins before their session time, just to ensure you get into your session on time.
9
What happens if I arrive late?
As long as you have checked in via our online check in and received a QR code, you should gain access through our access gates into the Xperience. Any issues please speak to one of our onsite team members who will be happy to help.
10
What do I wear when playing NERF Action Xperience?
We recommend that you wear something that you would wear when playing active sport, long sleeves, bottoms and trainers. We wouldn't recommend wearing any valuable/sentimental jewellery in case it gets damaged. We also recommend you tie your hair up. You will also need to wear our Nerf AX goggles, available to purchase in store.
11
Can we bring our own blasters or are the blasters provided?
No, Unfortunately for insurance purposes you are not allowed to bring your own blasters or darts. Blasters will be provided in all areas where they are required.
12
Can I take photos or record the experience?
Feel free to take photos or videos and share them. When taking photos, please make sure not to disturb other customers. Professional equipment and tripods are not permitted.
13
What are the prohibited items at the experience?
Flash photography, alcohol, weapons or anything which may disturb the other patrons. You are not permitted to bring or use your own NERF blasters in the experience. Anything considered dangerous or may pose a risk to other players will be asked to be left in the secure holding area.
Smoking, e-cigarettes and vaping are prohibited in all areas of the site - please go outside of Trafford Palazzo if you wish to smoke/vape.
14
Will there be strobe lights?
We do have flashing lights. If you have any concerns please email hello@nerfax.co.uk and we can advise more information. We are looking to do Peaceful play sessions.
15
Is there a limit on the number of children per adult within the premises?
No, there are no restrictions or limitations on the number of children per adult within our premises. Feel free to bring your children along, and they are always welcome!
16
If they have party Xperience tickets - Will they be alone or with more people?
Parties during their Xperience will be alongside other guests playing games together.
Yes, there is plenty of parking in the Trafford Palazzo car parks - included dedicated disabled spaces closer to the entrance of Trafford Palazzo.
18
Will restrooms be available on site?
Yes, we have toilets available both in the Xperience and our seating/mezzanine area. We also have fully accessible toilets and baby change facilities.
19
Where do I put my personal belongings?
We advise that you leave any valuables at home. However, we do have chargeable lockers at site, if required.
20
Do you have refreshments available?
Yes, we have teamed up with the exciting and North West favourite diner
Archies
- it's the perfect place to hang out and catch up after your NERF AX experience! We also have vending machines on site.
21
Are there vegan or gluten free options available?
Please refer to
Archies
directly to ensure allergen concerns.
22
Can we bring our own food?
We do not permit any brought in/own food or drink to be consumed on site. All food and drink must be purchased from Archies. However we do have cold and hot drink vending machines if you wish to buy from there.No food or drink is to be taken into the Xperience.
POST BOOKING FAQs
1
Do I need to print my ticket?
No, your contactless tickets via QR code will be validated directly on site. Please go to the Xperience desk on site and present your QR code for entry.
2
Are refunds allowed? What is the exchange policy?
Subject to availability, changes of date and/or time are permitted up to 48 hours before the start time of your experience. For more information, you can refer to our T&Cs below. If you have any emergencies or issues please contact hello@nerfax.co.uk for assistance.
3
Can I transfer my tickets to another person?
Yes, you can transfer your tickets to anyone for free. It is as easy as clicking "Transfer Tickets" on your ticket on the Fever App. Please contact us for additional help. Make sure to include your ticket order number.
4
I can't find my ticket. What can I do?
You can find your ticket with the QR code in the Fever app, within the Tickets section. If you don't have it installed, you can download it from the Apple Store or Google Play. Remember to log in using the same account that you used when buying the tickets. If you still cannot find your ticket, please contact us.
5
How can I request invitations for the Party Xperience?
Party invitations can be requested as a digital download in-store - please email: parties@nerfax.co.uk to request.
GAMEPLAY SAFETY & WAIVER
In addition to the waiver (below) which you agree to at time of booking, here are some brief gameplay safety notes to look at before you visit and play at NERF Action Xperience:
No one under the age of 5 is allowed in the Xperience.

Some blasters used in the activities may be suitable for ages 14yrs+.




Players understand that if they are under this age, a parent or guardian's approval is acknowledged by this waiver. 

If players have any issues or questions with the blasters, they must NOT try and rectify themselves and notify a NERF team member.

NERF team members are there to provide guidance and safety advice only.

In the Xperience players must wear goggles in ALL battle zones and Training Ground.

Do NOT aim blasters at anyone's face.

There are other people in the Xperience, please be aware of the surroundings, equipment and obstacles.

Players are reminded to not not jump from any steps or raised platforms.

Obstacles are NOT to be climbed on, they are for hiding behind and taking cover.

If waiting for a turn on any of the activities, we ask for all players to wait sensibly and be mindful of others.

There are no weight restrictions to enter the Xperience. However, the Battle Board game within Sports@NERFAX has a weight restriction of 16 stone (100kg). Only players under this weight may play this game.

Flashing lights might be used in some of our gameplay and zones.

No food or drink is to be taken into the Xperience. Lockers are available. 

Mobile phones are permitted within gameplay however lockers are available for personal belongings. Any belongings left unattended are left at the players own risk. 

There will be a lot of challenging gameplay, be ready and warm up.

Appropriate footwear to be worn at ALL times by all who enter the Xperience.

We recommend long sleeves and full length bottoms and tie long hair back

WAIVER
Notice to user: you acknowledge that you have read this document, understand it and agree to be bound by its conditions at the time of booking. if you are making a purchase on behalf of another person, you agree that you are making the purchase as their agent.

YOU MUST BE 18 OR OVER TO AGREE TO THESE TERMS AND CONDITIONS

In consideration of being permitted by Nerf Action Xperience to participate in its activities and facilities, now and in the future, I hereby agree to release, indemnify and forever discharge Nerf Action Xperience (including Rocafella Leisure Group and Hasbro), its agents, owners, members, shareholders, Directors, partners, employees, volunteers, manufacturers, participants, lessors, affiliates, its subsidiaries, related and affiliated entities, successors and assigns (the "RELEASED PARTIES"), on behalf of myself, my spouse, my children, my parents, my heirs, assigns, personal representative and estate as follows:-
I acknowledge that my participation in Nerf Action Xperience and its facilities entails known and unknown risks that could result in physical or emotional injury, paralysis, death, or damage to myself, to property or to third parties. I understand that such risks simply cannot be eliminated without jeopardising the essential qualities of the activity. The risks include, among other things and without limitation:-

Nerf Action Xperience equipment exposes its participants to the risk of cuts and bruises. Other more serious risks exist as well. Participants often trip/fall during gameplay, sprain or break wrists and ankles, and can suffer more serious injuries as well. Moving between each obstacle and/or run raises the possibility of any manner of transportation accidents.
I expressly agree to accept and assume all of the risks existing in this activity. My participation in this activity is purely voluntary, and I elect to participate in spite of the risks. I warrant that I will only carry out moves that are within my ability level and throughout which I will be able to maintain control.
I acknowledge that I have been provided with the necessary safety instructions by Nerf Action Xperience in relation to the activities and will comply with these at all times while on the premises.
I understand that the activities provided by the Nerf Action Xperience require a reasonable level of fitness and ability. I warrant that I do not have (or had) any medical condition including pregnancy that makes it dangerous for me to partake in such activities.


I agree as an adult participant, or the Parent/Legal Guardian of a minor participant (anyone currently under the legal age of 18) and in consideration of being permitted to participate in the activities at the Nerf Action Xperience, I give permission to be photographed and/or record me or my children in connection with Nerf Action Xperience, Rocafella Leisure or Hasbro to use the photography and/or recording solely for advertising and promotional purposes. I waive any right to inspect or approve the use of the Photograph and/or Recording, and acknowledge and agree that the rights granted to this release are without compensation of any kind.


If the participant is a minor (a person under the legal age of 18), I agree that this Release of Liability and Assumption of Risk Agreement ("RELEASE") is made on behalf of that minor participant and that all of the releases, waivers and promises herein are binding on that minor participant. I represent that I have full authority as Parent or Legal Guardian of the minor participant to bind the minor participant to these Terms and Conditions.
Anyone under the age of 12 must have a parent/guardian present within the building and not to be left alone. We advise anyone under the age of 8 to have a full paying parent/guardian within the Xperience to accompany them. Anyone aged 5 or 6 must have a full paying adult accompanying them within the experience.


Epilepsy Warning: Please be aware that there is a risk of flashing lights during each session. A few people may experience epileptic seizures when viewing flashing lights or patterns. Please consult your physician before participating, if you have an epileptic condition or experience any unusual symptoms while playing games
TERMS & CONDITIONS
GENERAL ISSUES

These Terms and Conditions apply to the booking of the NERF Action Xperience (the 'Activities") and any ancillary products at the location set out in NERF Action Xperience's (NERF AX) booking confirmation.

These Terms and Conditions contain important information concerning participation by you and members of your party and, accordingly, you acknowledge and agree that you shall ensure that all members of your party are aware of and accept these Terms and Conditions.

We are NERF Action Xperience Holdings Ltd, a company owned by Rocafella Leisure Group registered in England and Wales. Our company registration number is 13888026 and our registered office is at Parkins Accountants LTD Moor Park House, Bawtry Road, Wickersley, Rotherham, S66 2BL. Our registered VAT number is 436842281.

No variation to these Terms and Conditions shall be binding unless agreed in writing by NERF AX.

Any typographical clerical or other error or omission in any booking confirmation or other documentation issued by NERF AX (including any electronic documentation) shall be subject to correction without any liability on the part of NERF AX. NERF AX reserves the right to make changes to the Activities whether to conform with any applicable safety or other statutory requirements or otherwise



BOOKING CONFIRMATION

No booking shall be deemed to have been accepted unless accepted in writing by NERF AX (which shall include NERF AX's email confirmation of booking from our ticketing partner).

These Terms and Conditions incorporate NERF AX's Privacy Policy and Disclaimer.

You must advise NERFAX as soon as possible of any mistake in NERF AX's booking confirmation. NERF AX shall use its reasonable endeavours to ensure that you and your party's participation commence at the time booked and it shall be the responsibility of each participant to ensure that they arrive in sufficient time. 

Late arrivals may not be permitted to undertake the Activities and no refunds or compensation will be payable in such circumstances.



SAFETY

The Activities consist of low risk games and challenges.  Please read our Safety Advice prior to participation.

NERFAX reserves the right to refuse admittance to the Activities or to remove a participant from the Activities should it deem it necessary to do so. This includes a participant who does not comply with the safety rules and advice and the safety system or who is deemed to be under the influence of alcohol or drugs. All guests must wear suitable footwear and NERF AX goggles when in the game and battle zones. Bare feet, socked feet, flip-flops, high heels, or any other footwear deemed unsuitable by the NERF AX Team Members, are not permitted.

Participants will not be in direct supervision of an instructor/NERF AX Team Member.

All participants must be reasonably fit and healthy. 

If you have any concerns we advise that you visit a site at a time prior to your booking and speak to a member of the NERFAX's team. Anyone who does not meet these requirements will not be allowed to undertake the Activities. It is your responsibility to ensure that all members of your party meet these requirements.

All participants must be aged 5 and over to participate in NERF AX. Participants aged 5 and 6 must have a full paying adult with them in the Xperience. Children under the age of 12 need an adult in the premises/seating area of NERF AX. Prices are on a per person basis and are not depending on age.

The Activities can be physically demanding and require a degree of agility, strength and stamina. Participants are advised to keep within their ability – only the individual knows or understands their own limits and competencies. If you are unsure of whether you can complete a challenge, you should not attempt it. 

If participants have medical concerns they are advised to consult their doctor in advance. 

Participants will be required to certify that they do not suffer from any medical condition which would make it more likely that they would be involved in any incident which could result in injury to themselves or others. Via our tick box stating you have read and understood our terms and conditions.

Due to the physical nature of the Activities NERF AX recommends that pregnant women should not take part.

All participants are required to act responsibly and courteously at all times and to respect other participants. NERF AX shall be entitled to prevent any person from undertaking or completing the Activities in the event it deems the behaviour of any participant unsuitable.

Participants must be dressed appropriately (see Clause 4) and NERF AX reserves the right to refuse admittance to the Activities to any participant who is not appropriately dressed.

All participants aged 12 and under must be accompanied in our parks by an adult

for the duration of their visit. The adult does not have to take part in activities but must be present in the building. Children aged 5 and 6 require a full paying adult inside the Xperience.



CLOTHING

It shall be the responsibility of all participants to ensure that they are dressed appropriately and NERF AX advises participants to wear clothing appropriate for the activity and which they do not mind getting damaged. In particular the following restrictions shall apply:

Long hair is advised to be tied back

No belts, jewellery or other sharp items of clothing that may cause damage to yourself, the equipment or other participants.

NERF AX will not be responsible for any damage to or loss of clothing or other personal items resulting from participation in the Activities.



CANCELLATIONS

A normal/general Xperience ticket can be entitled to a refund subject to NAX receiving your request for cancellation at least 48 hours before the booked start time. Any requests for cancellation must be made by emailing manchester@nerfax.co.uk. You shall be entitled to a full refund in the event of cancellation under this clause.
To cancel any party package booking, you must give NERF AX at least 14 full days notice before your party start time. You shall be entitled to a full refund with this notice. No refund will be given for any cancellations made with less than 14 days notice, and the full amount of the booking will be due upon cancellation. Any requests for cancellation must be made by emailing manchester@nerfax.co.uk.

NERF AX shall be entitled to cancel your booking at any time. In the event that NERFAX decides to cancel your booking it shall use its reasonable endeavours to notify you as soon as possible. You shall be entitled to a full refund in the event of cancellation under this clause but no other compensation shall be payable.

In the event that it proves necessary to close the Activities for reasons beyond the control of NERF AX and in circumstances where your party has commenced participation in the Activities, you shall not be entitled to any refund (in part or in whole). In such circumstances NERFAX may, but shall not be obliged to, offer alternative dates or times at reduced rates.



PRICE AND PAYMENT

Subject to any terms agreed in writing between NERF AX and you, our charges shall be calculated at our current rates and payment in full shall be due at the time of booking. The charges include the cost of purchasing the Activities. Payment may be made by debit or credit card either online or on site/in store.



REFUNDS AND AMENDMENTS

Payments made by debit or credit card will be refunded to the same card or, if the card has subsequently expired, by cheque. Payments made by Gift Voucher will be refunded by the issuing of a replacement Gift Voucher to the same value.

Where multiple forms of payment are used, NERF AX reserves the right to refund any monies due on a refund or amendment by credit or cheque.

Retail Refund Policy (bought in store)

You have 14 days from the date of purchase with a valid proof of purchase and unopened packaging, to return a product if unwanted or not suitable to receive a full refund or credit voucher for the value of the item.
You have 30 days from the date of purchase with a valid proof of purchase and unopened packaging, to receive a credit voucher for the value of the item.
If the item is broken, you can return the product to the store with a valid proof of purchase within 30 days of purchase and we will replace the item or give a full refund. If you are unable to physically return the item to the store, then you can post the item to us with a valid proof of purchase and receipt of postage and we will refund the item along with the postage cost.



LIABILITIES

Except as otherwise provided in these Terms and Conditions NERF AX shall not be responsible for the loss, or damage, of or to any property or to any person arising from the booking of or participation in the Activities.

Parking facilities are available at Trafford Palazzo and Trafford Centre, and any vehicles are left at the owners' risk and subject to any conditions and the payment of any fees as may be required by the provider of such facilities at the site location.

Except as otherwise provided in these Terms and Conditions any liability of NERF AX shall be limited to the refund of any charges paid to NERF AX.



MISCELLANEOUS

If any of these terms are determined to be illegal invalid or otherwise unenforceable it shall be severed and deleted from these terms and the remaining terms shall survive, remain in full force and continue to be binding and enforceable.

Nothing above shall confer on any third party any benefit or the right to enforce any of these Terms and Conditions.

These Booking Terms and Conditions shall be governed by and interpreted in accordance with the laws of England and Wales and NAX and you submit to the exclusive jurisdiction of the courts of England and Wales

.