FOUR ACTION-PACKED ZONES
FULL OF
NERF FUELLED

PLAY
UNDER ONE ROOF!
NERF Action Xperience is the most legit place to get your NERF on, with challenges and activities to keep you entertained for hours.
ARE YOU READY?

GET INTO THE GAME! NO BLASTERS NEEDED, THIS ZONE IS ALL ABOUT HIGH-ENERGY, FAST-PACED ACTION SPORTS!
CAN YOU HANDLE IT?
Sports @ NERF AX contains seven individually branded games that enables players to compete against each other or themselves in a challenge that gets them active while showcasing their skill and talent.

ESTABLISH YOUR INDIVIDUAL BLASTER SKILLS, PREPARING YOU TO CONQUER THE BATTLE ZONES!
Hone your targeting skills, improve your accuracy, and enhance your hand-eye coordination by playing various games where physical blasters meet digital environments!


CAN YOU SURVIVE THE CHAOS OF OUR POST-APOCALYPTIC BATTLEGROUND?
GRAB YOUR BLASTER AND GET READY TO BATTLE!
Put all your freshly honed skills to the test when you enter Chaos City for an action-packed version of capture the flag!

TWO TEAMS BATTLE IT OUT TO TAKE CONTROL OF A MAROONED SPACESHIP.
R U READY TO DEFEND YOUR TURF?!
Step into the futuristic cargo bay of this abandoned spaceship, where you'll work as a team to blast your way to victory and take control of the ship's onward journey.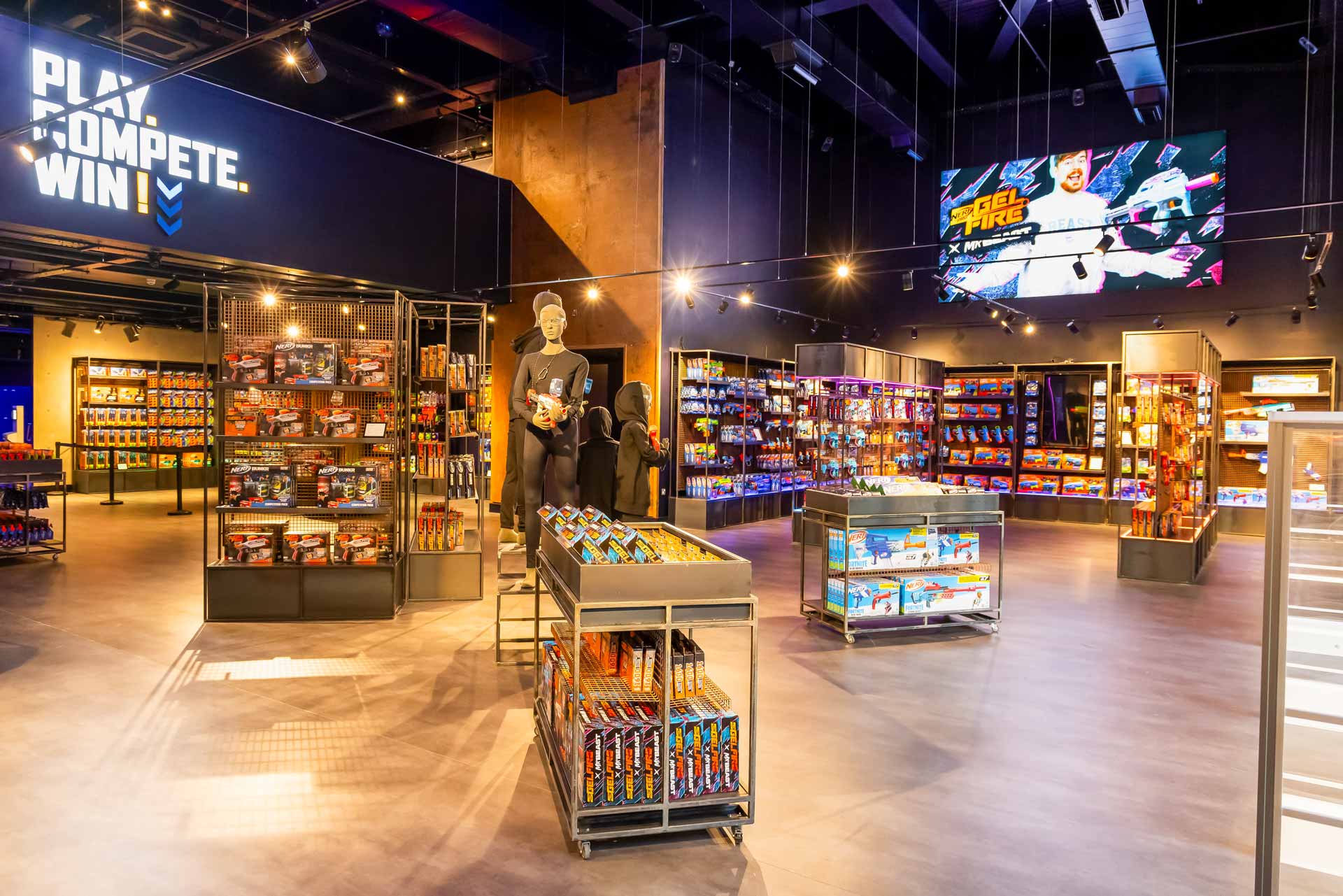 SHOP OFFICIAL NERF PRODUCTS
IN OUR JAW-DROPPING
DEDICATED NERF STORE
From blasters and apparel to sports equipment and merch, we have it all in a massive vault of dedicated NERF products to suit all ages.
Pick up a blaster from the impressive and unique three-sided blaster gallery (great place for a selfie!) or browse the different footballs, basketballs and distinctive, one-off NERF products in the sports section.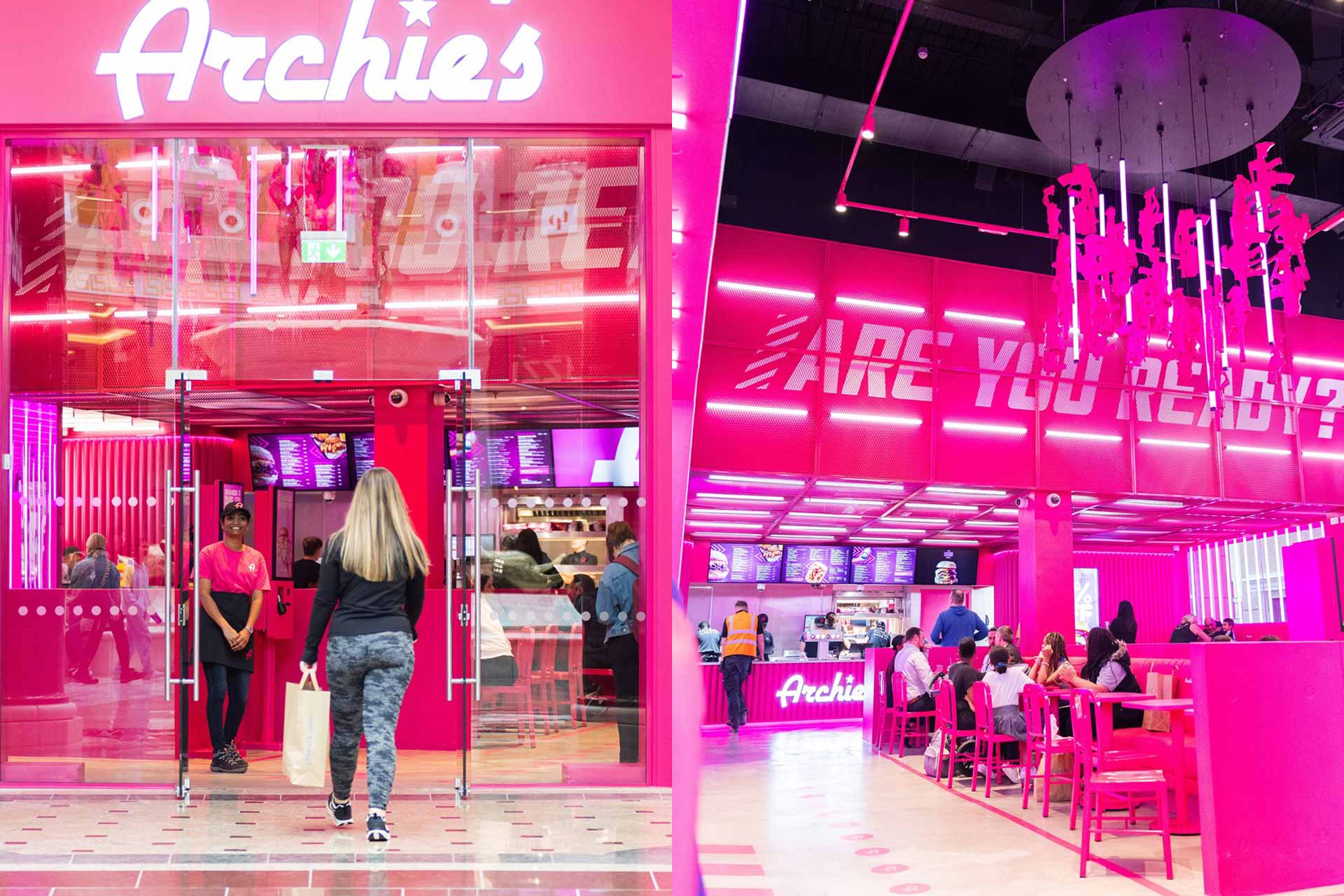 ENJOY ONE OF THE UK'S
MOST ICONIC FOOD EXPERIENCES
Grab a bite at Archie's, a place renowned for its high quality food, extravagant menu and vibrant décor.
Whether it's a smashed beef patty with fries, or a waffle or shake to satisfy your sweet tooth, it's the perfect place to hang out and catch up after your NERF AX experience!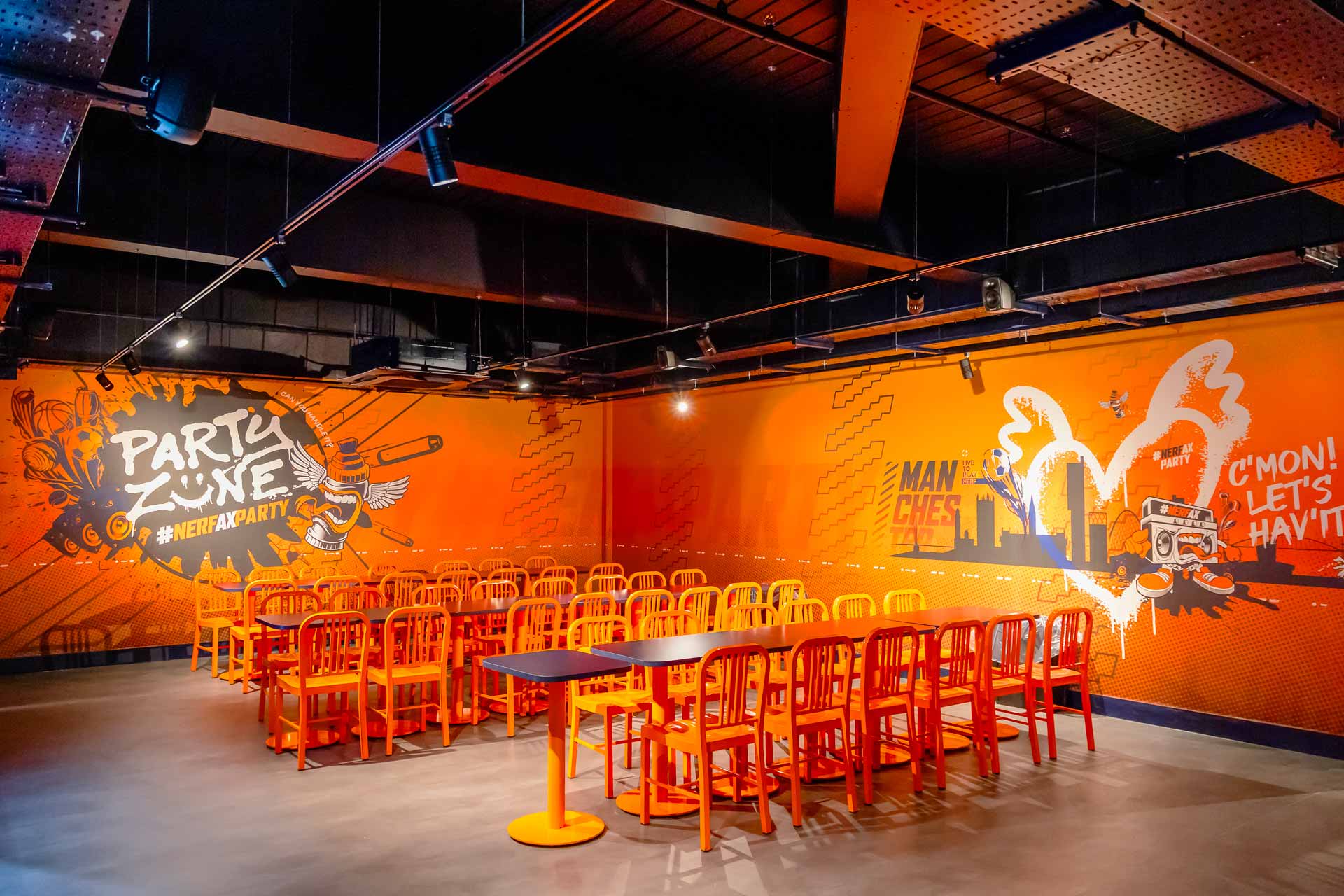 DO YOU WANT TO CELEBRATE
YOUR BIRTHDAY AT NERF
AX

?
The best kids birthday parties in Manchester!
Have a blast with us and celebrate in style!
DO YOU HAVE ANY QUESTIONS?
Here are the top 10 most frequently asked questions, if you need any more info check out our guest information » 
XPERIENCE FAQS
1
Where is the Xperience located?
NERF Action Xperience is located at Unit C2, C6, Trafford Palazzo, Trafford City, Manchester M17 8AS.
NERF AX is a fully indoor activity located within Trafford Palazzo - just across from the main Trafford Centre shopping mall complex
2
What is NERF Action Xperience?
NERF Action Xperience (NERF AX) is UK's first dedicated NERF themed attraction. A huge site, over 2 floors dedicated to all things NERF - the world's leader of dart blasters and toys.
Our brand new NERF AX games are both physical and tactical - challenge yourself or be part of a team - play to win!
Once you have honed your skills chose your battle zone - post apocalyptic Chaos City or the abandoned spaceship in Mission X. Team up and get battle ready to capture the flag and take command of the ship.
Need a break from the action or just want to chill out whilst the kids play... then head upstairs to the mezzanine area and enjoy a snack from Archies, our F&B partner before heading to the first dedicated NERF retail store on the way out - the perfect place to pick up presents for all ages
We advise that you book your tickets online to ensure you can book the entry time you would like.
4
Is there an age requirement?
Minimum age is 5+ to access the Xperience during normal sessions. There is no maximum age. Adults are welcome.
5
Do I need an adult with me?
Children under the age of 12 need an adult inside the venue/seating area/mezzanine at all times. Children aged 5 and 6 need to have a full paying adult in the Xperience with them to maximise their enjoyment and Xperience
6
How long does the Xperience last?
You get 60 mins of play within the Xperience but there is a ticket option to extend your play for an additional 60 mins
7
How long should I arrive before my session?
We advise all guests to arrive 15 mins before their session time, just to ensure you get into your session on time.
8
Do I have to fill in a waiver or watch a safety brief?
The waiver and safety brief will be part of your booking process online. Please make sure you read this thoroughly and tick the box to say you have read and understood. You can also view this info on our
guest information
page.
9
Can I/we bring our own blasters or are the blasters provided?
No, Unfortunately for insurance purposes you are not allowed to bring your own blasters. Blasters will be provided in all areas where they are required.
10
Can I take photos or record the experience?
Feel free to take photos or videos and share them. When taking photos, please make sure not to disturb other customers. Professional equipment and tripods are not permitted.
Nerf Action Xperience
Unit C2-C6
Trafford Palazzo,
Trafford City,
Manchester
M17 8AS
Opening hours:
Retail:  Mon to Sat: 10am - 9pm // Sun: 10am - 7pm

Xperience: Mon to Fri: 4pm - 8pm //
Sat: 10am - 8pm // Sun: 10am - 6 pm
Last admission to play is one hour before closing.
Last party admissions are two hours before closing.